My thing-a-week posts have been backlogged, but that doesn't mean I haven't been making things.
In
January
, I told Lance that some of my buildings come from the doodles I make to stay alert through sermons. For Week 10, I turned one of those doodles into a building, Elephant House: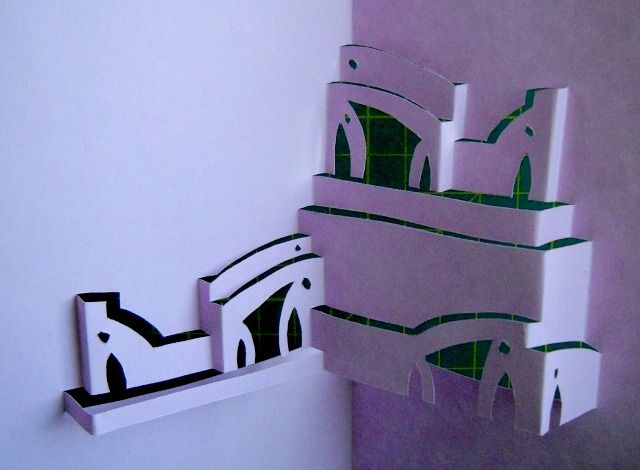 This could be a building in a zoo, a hillside church, or a home somewhere rocky and dry, like
Socotra
with its funny trees, scrubby undergrowth, and pale rocks, or
Joshua Tree National Park
. The building might or might not actually be purple, but the windows would be made with blue and green colored glass.
For Week 11, I learned to make bracelets with macrame, and I used pieces of ribbon I'd had lying around. They came from the packaging of PR stuff sent to the office, and I guess PR people have a thing for gold and purple. The fish bead is from a Gensan school supply store with a bin of assorted beads; they're all mixed together and go for P40 a cup. I also tried weaving a simple strap bracelet out of white string, some of it dyed blue.
The blue and orange bracelet is not entirely my own handiwork, by the way. Emily (Shi Yu), a volunteer teacher from China and one of Cris's colleagues, made the double coin knot in the center; I just did the macrame on the sides to see how it would look.
For Week 12, this week, I decided to go back to making birthday cards for people at the office. One of the writers, Gianna, is 23 now. This simple popup card is inspired by the time I witnessed her drive on EDSA for the first time ever, and in the middle of Friday night rush hour, too.