I joined Glitch, and it was love at first play. Now, I have just a little over two weeks left to have my fill of milking butterflies, cooking Awesome Stew, and exploring the magical world of Ur, because the best MMOG I've ever played is
about to close
.
I had just volunteered to organize an in-game community event when the news broke, and the forums went up in a
collective wail
as the players realized,
Our world is actually ending
.
I'd recently watched "Wreck-It Ralph" twice and felt a jolt in my gut; the fantastic predicament for the glitch in that movie was now very real for us; who knew what would happen to us as the plug was pulled on our own little universe?
The event I was to run was immediately cancelled, to allow participants to say their goodbyes, draw up their bucket lists, and spend their last days as glitchen however they pleased. There was a virtual filing out of the room.
Left alone, it wasn't hard for me to see the precious value of the time I had left. I had only played for about two months. I had just started piecing together the in-game clues to the real story behind the 11
giants
. I had only just reached that level of skill and self-sufficiency in the game where I could really do what I wanted. My ultimate project, to build a travelers' rest with cheap food, trip tickets, and free reading material, had just begun to gain momentum.
Now, I had to decide whether to go on with glitchy life as usual, or hang the plans, close my doors, and take that metaphorical cruise around the world.
My brother
, perhaps in going about his own end-of-the-world business, generously finished building for me. Partly so his efforts wouldn't go to waste, and partly to avoid disappointing whatever visitors I'd get before the end, I put up the sign, got some furniture, decorated the place, and stocked the vending boxes with whatever I could make out of the ingredients I had at the time. Then, I splurged on some new clothes and set off for both unexplored and beloved corners of Ur.
I trekked through every last one of the savanna-like Ancestral Lands, bounced on the fungi trampolines of Haoma and Kloro, went salmon fishing in Jal, scaled the last rocky ledges of Ormonos, bid goodbye to the bureaucrocs at the Department of Administrative Affairs in the Ministry of Departments, hung out with the bartender of Hell, got lost in a bunch of abandoned basements, attended a party on the moon, and even looked down at Ur from orbit.
The asteroids had become shrines to the game; they were covered with heartfelt letters, favorite foods, keys, toys, old tools, and other everyday-items-turned-mementoes of our glitchy existence. I left my own letter and a bowl of stew before heading out again.
In the ancestral lands. Trees in Ur talk after you interact with them. The paper trees speak in haiku.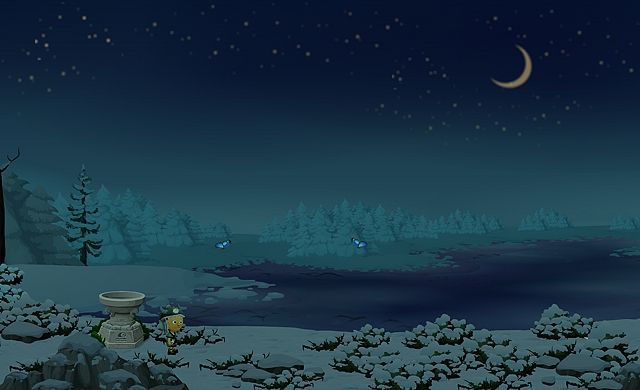 The frozen lake in Nottis, Ur's snowy northern region.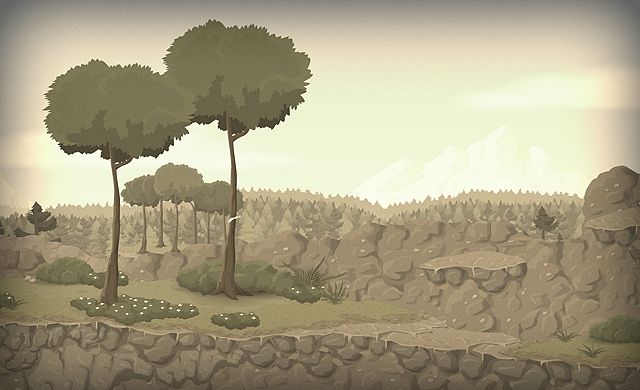 Somewhere in Ormonos.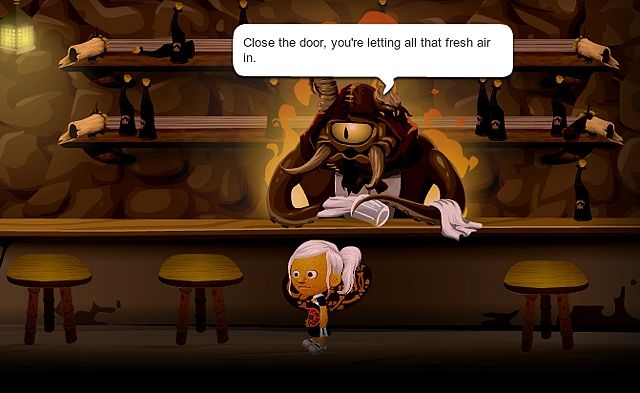 "A mixologist of the underworld, no one knows the true story of Hell's Bartender, but assume he was either really good at pouring bad drinks, or really bad at pouring good drinks in a previous life."
—
The Glitch Encyclopedia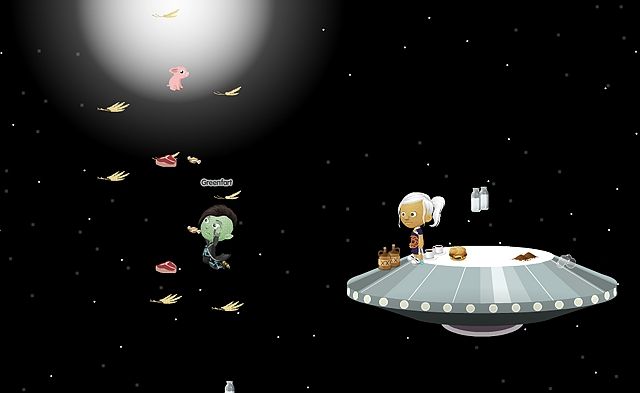 Partying with Mikko on the moon.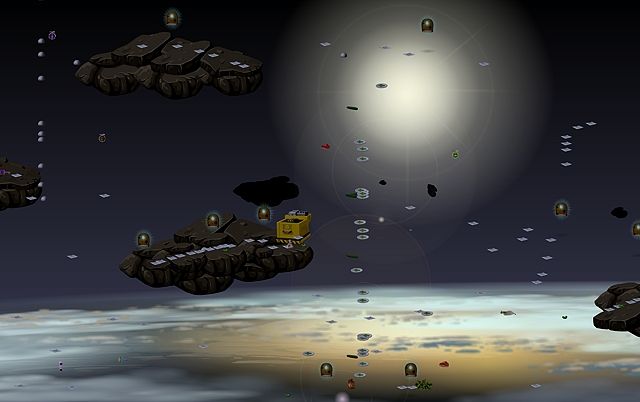 The asteroids.
When I was done travelling, I came home to my own firebog treehouse in the highlands and saw that my time wasn't up just yet. I restlessly wandered some more, casting about for something fulfilling to do in the weeks I had left, and finally thought again of my travelers' rest. There was no way I could end the game without at least attempting to make my humble pit stop as wonderful as I'd imagined. So, I bookmarked some good poems, came up with a menu of my favorite dishes in the game, and found myself creating spreadsheets on the ingredients I needed.
I decided to cook 61 of everything; I wanted a two-digit prime number because the game creators liked prime numbers, and the digits add up to 7, my own favorite (also prime) number. I set to work, gathering, growing, harvesting, and buying as much as I can.
That's how I spend most of my free time now. I know it sounds like a waste of time, but that's how attached I've become to Glitch in the short time I've played it. Even if I never cook 61 of all 12 dishes I've chosen and spend the rest of my time in the game gathering 4,758 cherries, even if I have to give up because the countdown to the end of the world is about to begin, I'll at least be able to say that I spent my last days doing what it took to reach my little dream.
I'll admit, it's more than I can say about my life offline. Yet that's also a big part of why I love Glitch. The spirit of the game inspires me even when I'm not playing, and its impending end is as much a good thing as a sad one. I know that I can't depend solely on a fantasy world to make me feel powerful, creative, and generous. I know that my actual life should have its own projects. As I work through the last days of Ur, I remind myself that when it's all over, the next quest will be to find something I can actually create, work toward, and be happy about.
The timing is pretty good. The new year is coming. I'll head back to Chinese classes then, and I want to learn about other things, too: the stock market, drawing, flexagons, Asian literature, Asian history, and so on. There won't be any fungi trampolines, but there will be travelling; I want Cris to see Kalsangi, and I hope to take more trips with him and with my family.
And though it isn't over yet, it's been a truly lovely year. Even with the weird blue funk I've been in for the past couple of months, I am happier than I thought I'd be now, and I am in a very good place. I'm excited about what's next.
But first, 4,758 cherries, 488 bottles of butterfly milk, 1,830 allspice corns, 1,281 bubbles, 610 tomatoes, ....